ABOUT THE BOOK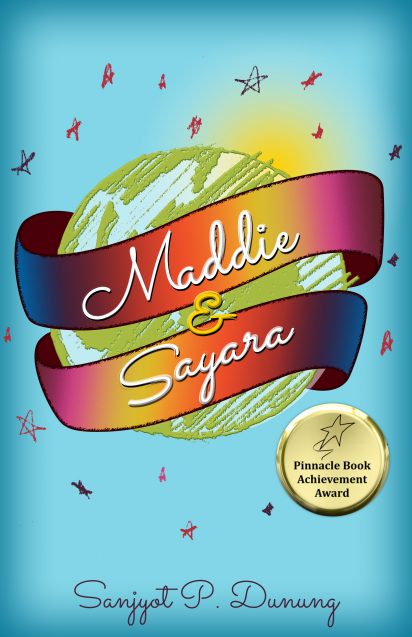 Maddie & Sayara

Maddie & Sayara are from very different cultures and meet while on holiday. They quickly forge a close friendship as they discover their similarities – their families, attitudes, dreams, and hopes.
Their time together is cut short when Sayara is called home because her favorite cousin is unexpectedly jailed by powerful forces. Maddie is both surprised and shocked – and resolves to help Sayara free her cousin, Themi, from jail.
Maddie wonders why girls are treated differently just because of where they are born. Naïve but hopeful Maddie cannot understand why her friends should live within unequal and unfair rules, and she is determined to fix the problem.
Stealthily arriving in Sayara's home kingdom, Maddie finds she is less prepared than she thought to navigate local powerful forces, culture, and unfair rules. With the help of a local family, Maddie finds Sayara and her spirited cousin Themi. But can Maddie & Sayara persuade the king to change the unfair rules against women?
Join them on their adventure!
About the author, Sanjyot Dunung…
Sanjyot has spent her career and life working in a number of ways to help people understand more about different people, other cultures, and the world at large.
She believes that we're all equal regardless of gender, race, religion, or any other personal characteristics. She believes that no matter where you live, everyone should have equality of opportunity, although not necessarily equality of outcomes. She's lived in many places and considers herself a curious resident of planet Earth.
Sanjyot has written sixteen international business books and this is her first novel — and the first in her new series of activist fiction.
She's also president and founder of Atma Global, working to help people understand cultures, countries, and global business issues.
She thanks you for joining Maddie and Sayara on their first adventure — and hopes that this story touches a part of your heart, soul, and life.
She hopes to hear from you!
GET IN TOUCH
Curious about Maddie and Sayara's next adventure?
Sign up to find out more about the next adventure!
You can contact Sanjyot through the form below or by email at Sanjyot@maddieandsayara.com.
If you'd like to learn more about how to use Maddie & Sayara in the classroom, a book club, or other discussion forum, please contact us by email info@maddieandsayara.com or through the contact form below.
For publicity and marketing, please contact Ben Cameron.
Thanks!